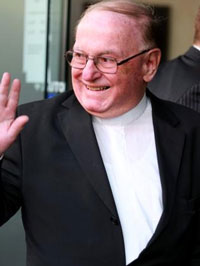 The new Vicar General will be Rev Dr Gerald Gleeson, presently Parish Priest of Summer Hill.
And the for first time in the Archdiocese the Chancellor will be a lay person, Mr Chris Meney, until now the Director of the Archdiocesan  Life, Marriage and Family Centre.
For the past ten years both responsibilities have until now been undertaken by Monsignor John Usher who is also Parish Priest at Mortlake. Monsignor Usher, 74, is retiring from the Chancery role but will continue as Parish Priest.
Ordained at St Mary's Cathedral in 1978, Fr Gleeson, 62, has lectured at the Catholic Institute of Sydney and served on a number of education and advisory committees. He has also been Parish Priest at Summer Hill for nearly four years.
Monsignor Usher was also ordained at St Mary's Cathedral although six years before Fr Gleeson.
His parish work  found him more and more involved in social welfare and between 1975 and 1978 he completed a Social Work degree at Sydney University.
He went on to complete a Masters Degree in 1988.
Msgr Usher was appointed the Director of Centracare Catholic Community Services in 1983 which was a role he held until 2004.
During this time he served as Chairman of the Australian Catholic Social Welfare Committee; served on the Family Law Council of Australia and the Social Security Advisory Council.
He also advised the NSW State Government on matters relating to Foster Care, Adoptions and the Out of Home Care of Children and Young People.
He was appointed Chancellor of the Archdiocese of Sydney in 2005.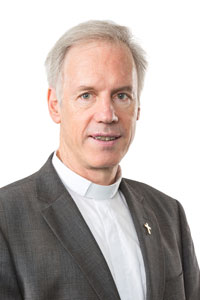 "Monsignor Usher has left the Archdiocese many great legacies. He has made a wonderful contribution right across the Archdiocese with everyone he has met or worked with – clergy and laity."
Chris left his position as head of Religious Education at the Catholic school for boys St Kevin's College in Melbourne nine years ago to join the Archdiocese of Sydney.
As Director of the Life, Marriage and Family Centre he has either initiated or been involved with numerous new initiatives including what is now an annual Mass and Renewal of Vows at St Mary's Cathedral, a Mass for Pregnant Mothers, a special Grandparents Day and the Memorial Mass for the Unborn.
Married for more than 30 years and father to nine children Chris has also produced and guided many resources through the Centre for parents and families.
Chris was also invited to attend the third Extraordinary General Assembly of the Synod of Bishops on the family which was convened by Pope Francis at the Vatican last October.
"I am certainly looking forward to this new challenge," he said.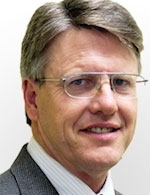 "Monsignor Usher worked through many difficult situations with a great depth of experience, charity and faith.
"As I said for me it is a new challenge but I am looking forward to working with the new Archbishop in developing and supporting his plans and vision for the Archdiocese."
In announcing the new appointments Archbishop Fisher said; " While it is with great sadness that we farewell Msgr Usher from the Chancery, it is with joy that we welcome these two fine servants of the Church.
"I thank them for taking on these important roles. I know we will all work well together in advancing the work of the Archdiocese," Archbishop Anthony said.