Reading Time:
4
minutes
Sydney's television and print journalists, producers, cameramen and crews joined NSW Police Commissioner Andrew Scipione, members of the NSW Police Force and members of the State Emergency Services along with members of Parliament including Minister for Resources and Energy Anthony Roberts to pay tribute to legendary journalist Harry Potter at his funeral on Friday.
Victims of crime and their families were also among the more than 1000 who attended the Mass of Christian Burial for the acclaimed police reporter which was held at St Mary's Cathedral.
Bishop Peter Comensoli, Apostolic Administrator for the Archdiocese of Sydney celebrated the Mass which was concelebrated by Bishop of Parramatta, the Most Rev Anthony Fisher, Monsignor John Usher, Monsignor William Mullins, Fr Paul Stenhouse, Fr Paul Hilder, Fr John Knight, Fr John Flynn, Fr Anthony Percy and Fr Denai Penollar.
On Thursday 8 May, surrounded by his beloved family, Harry Potter lost his courageous decade-long struggle with cancer.
He was 72.
Regarded as one of the greats of Australian journalism, his passing is mourned not only by his family, friends and colleagues, but by homicide detectives and officers of the NSW police force, men and women of the state's emergency services and above all by victims of crime.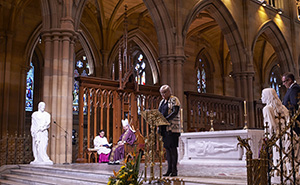 Harry Potter kept in touch with victims decades after the crime or crimes that had devastated their lives. Offering his support and encouragement, he would check to see how they were doing and each year would call them on the anniversary of the crime to let them know that he remembered and that he cared.
Born in Perth, Harry Potter shared his name with his grandfather and father. He also shared their love of newspapers. His grandfather was a typesetter and his father an admired war correspondent and the state's foremost AFL football writer.
After completing his cadetship at the Daily News, Harry headed to Melbourne and worked at the Sun News Pictorial before joining Sydney's Daily Telegraph in 1964.
Covering police rounds for the Telegraph, he not only broke news but his integrity, accuracy and honesty won him the respect and trust of the NSW police. He covered both politics and crime and was also appointed Chief of Staff of the Daily Telegraph.
Snapped up by Network TEN in 1978 he joined the team at Eyewitness News as police roundsman; a position he would hold for the next 32 years.
"What would now be known as a Victims Support Group but was simply Harry Potter," friend and former colleague, Jason Morrison said in his eulogy at Friday's Mass and recalled how his first words to victims at a crime scene were always  "what can I do for you? How can I help?"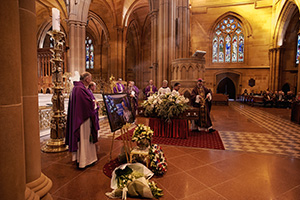 "Harry genuinely cared. He wanted justice and he wanted to make sure that they (victims) were looked after and knew that people cared. He saw this as his duty, responsibility and part of the job," Jason said.
As news of Harry Potter's death became public on Friday 9 May, tributes for the newsman dominated social media, twitter, newspapers and television news.
CEO of Channel TEN, Hamish McLennan described him as "a giant of Australian journalism who devoted more than 50 years of his life to the profession," while Natarsha Belling of Ten's Wake Up morning show tweeted: "fantastic journalist, amazing mentor and true gentleman. We will miss him."
According to Peter Meakin, Head of News and Current Affairs at Channel 10, Harry Potter defined crime reporting for a generation with his legacy remaining a major part of the newsroom at Ten.
"Harry's unique style, impeccable police contacts and genuine care for victims of crime led to decades of exclusive stories and lasting friendships. He was held in the highest regard not only by his family at TEN but by the many police, families, journalists and cameramen he worked with over the years," he said.
At last year's Kennedy Awards for Excellence in NSW Journalism, Harry Potter became the first-ever recipient of the Kennedy Lifetime Achievement Award while at Channel Ten each year the Journalist of the Year is honoured with the Harry Potter Award.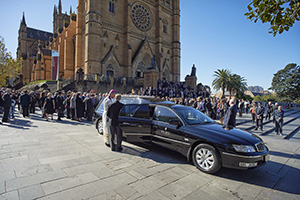 Well known and loved for his generous mentoring the next generation of journalists, at Friday's Mass of Christian Burial Harry Potter was also remembered as a loving and devoted husband and father and a larger than life character who inspired all who knew him with his courage, integrity and lust for life.
Harry Potter is survived by his wife, Katrina Lee, sons Tim, Nicholas, Jackson, daughter Elisa and daughter in law Brooke.
"Harry inspired us all with his tremendous fighting spirit, love of life and dedication to his family, friends and colleges. Harry is the definition of a larger than life character and he will be with us forever," a statement released by the family said.
"Harry was first diagnosed with cancer more than a decade ago and the subsequent years we have enjoyed with Harry have been a blessing. We were lucky to have the last month with Harry to reflect on so many wonderful times and to ensure this period was filled with love, music and laughter."