Reading Time:
6
minutes
Update, Catholic Communications, Sydney Archdiocese, 28 July 2017
Cardinal Pell appeared in Melbourne Magistrates Court on Wednesday, 26 July and was greeted by a media scrum described as "unprecedented."  Cardinal Pell was not required to appear at the procedural hearing which lasted only a few minutes, nor was he required to enter a plea.  Despite this, Cardinal Pell's barrister, Robert Richter QC, indicated that Cardinal Pell will plead not guilty to all charges against him.
The next hearing was set for Friday, 6 October.  This hearing – a committal mention – is similarly likely to last just a few minutes.
Original story, Catholic Communications, Sydney Archdiocese, 26 June 2017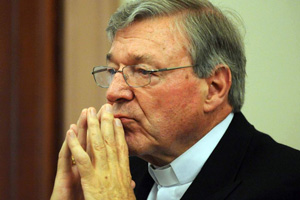 Victoria Police this morning confirmed that they have charged Cardinal George Pell with historical sexual assault offences.  At a press conference, Victoria Police told media that Cardinal Pell has been charged on summons, and is required to appear at the Melbourne Magistrates Court on 18 July 2017 for a filing hearing.
At the press conference, Victoria police's deputy commissioner Shane Patton said:
"It is important to note that none of the allegations that have been made against Cardinal Pell have obviously tested in any court yet.  Cardinal Pell, like any other defendant, has a right to due process and so therefore, it's important that the process is allowed to run its natural course.
"Preserving the integrity of that process is essential to all of us, and so for Victoria Police, it's important that it's allowed to go through unhindered and allowed to see natural justice is afforded to all the parties involved including Cardinal Pell and the complainants in this matter."
Victoria Police will not be commenting further on the matter.
Following the announcement, Cardinal Pell issued an initial statement relating to the charges.
The statement reads:
INITIAL STATEMENT FROM CARDINAL GEORGE PELL FOLLOWING ANNOUNCEMENT OF CHARGES
Although it is still in the early hours of the morning in Rome, Cardinal George Pell has been informed of the decision and action of Victoria Police.
He has again strenuously denied all allegations.
Cardinal Pell will return to Australia, as soon as possible, to clear his name following advice and approval by his doctors who will
also advise on his travel arrangements.
He said he is looking forward to his day in court and will defend the charges vigorously.
Cardinal Pell will make a further statement in Rome at the Holy See Press Office at 8.30am, Rome time, or 4.30pm AEST.
The statement is here.
At 8.30am Rome time (4.30pm AEST), Cardinal Pell held a media conference at the Holy See press office, where he made the following statement:
STATEMENT FROM CARDINAL GEORGE PELL FOLLOWING ANNOUNCEMENT OF CHARGES BY VICTORIAN POLICE
These matters have been under investigation now for nearly two years. There have been leaks to the media, relentless character assassination and, for more than a month, claims that a decision on laying charges is "imminent".
I am looking forward finally to having my day in court.
I repeat that I am innocent of these charges. They are false. The whole idea of sexual abuse is abhorrent to me.
I have kept Pope Francis regularly informed throughout this lengthy process, and have spoken to him in recent days about the need to take leave to clear my name. I am grateful for his support in granting me this leave to return to Australia. I have spoken to my lawyers about when I need to return home, and to my doctors about how best to do this.
I have been consistent and clear in my total rejection of these allegations. News of these charges strengthens my resolve, and court proceedings now offer me an opportunity to clear my name and then return to my work in Rome.
You can find a copy of the statement here.
Immediately after the Cardinal made his statement, Vatican communications director Greg Burke read the following statement, in Italian and English, to the gathered media:
The Holy See has learned with regret the news of charges filed in Australia against Card. George Pell for decades-old actions that have been attributed to him.
Having become aware of the charges, Card. Pell, acting in full respect for civil laws, has decided to return to his country to face the charges against him, recognizing the importance of his participation to ensure that the process is carried out fairly, and to foster the search for truth.
The Holy Father, having been informed by Card. Pell, has granted the Cardinal a leave of absence so he can defend himself.
During the Prefect's absence, the Secretariat for the Economy will continue to carry out its institutional tasks. The Secretaries will remain at their posts to carry forward the ordinary affairs of the dicastery, donee aliter provideatur.
The Holy Father, who has appreciated Cardinal Pell's honesty during his three years of work in the Roman Curia, is grateful for his collaboration, and in particular, for his energetic dedication to the reforms in the economic and administrative sector, as well as his active participation in the Council of Cardinals (C9).
The Holy See expresses its respect for the Australian justice system that will have to decide the merits of the questions raised. At the same time, it is important to recall that Card. Pell has openly and repeatedly condemned as immoral and intolerable the acts of abuse committed against minors; has cooperated in the past with Australian authorities (for example, in his depositions before the Royal Commission); has supported the Pontifical Commission for the Protection of Minors; and finally, as a diocesan bishop in Australia, has introduced systems and procedures both for the protection of minors and to provide assistance to victims of abuse.
A copy of the Vatican communiqué can be found here.
The Archbishop of Sydney, Most Rev Anthony Fisher OP, also released a media statement following the Cardinal's media conference.
STATEMENT FROM ARCHBISHOP ANTHONY FISHER OP FOLLOWING CARDINAL GEORGE PELL CHARGES
Many people will be shocked, as I have been, by the news that Victoria Police have issued charges against Cardinal George Pell in relation to sexual abuse allegations.
Cardinal Pell has repeatedly and vehemently rejected these allegations and insisted that he is completely innocent. He will now have the opportunity to put his case in court and is determined to clear his name.
While Archbishop of Sydney and during his current role, Cardinal Pell has cooperated with parliamentary, Royal Commission and police investigations and has ensured that clergy and church workers have done the same.
He will return voluntarily to Australia to face these charges. While the Archdiocese will assist with the Cardinal's accommodation and support, as it would for any of its bishops or priests, it is not responsible for the Cardinal's legal bills arising from these matters.
In granting Cardinal Pell leave from his role as Prefect of the Vatican Secretariat for the Economy, Pope Francis has emphasised respect for the rule of law – which includes the right of every citizen to due process and the presumption of innocence.
Pope Francis also commented that during the three years that they have worked together he has always found Cardinal Pell an honest man. Having known him for the best part of three decades myself, I can only support that judgment: the George Pell I know is a man of integrity in his dealings with others, a man of faith and high ideals, a thoroughly decent man.
Where complaints of abuse are made, victims should be listened to with respect and compassion and their complaints investigated and dealt with according to law. No-one should be prejudged because of their high profile, religious convictions, or positions on social issues. The justice and compassion we all seek for victims of abuse includes getting to the truth of such allegations. We must now allow the impartial pursuit of justice. I would ask everyone to pray for truth and justice in this present case, pray for our Church at this difficult time, and to continue your prayers for all those affected by sexual abuse.
A copy of Archbishop Fisher's statement can be found here.
Cardinal Pell returned to Australia on Monday, 10 July.  Following his arrival, a statement was issued on his behalf:
Cardinal George Pell has returned to Australia to defend sexual abuse charges.
When he was told of the charges by Victoria Police Cardinal Pell said in Rome he totally rejected the allegations, was completely innocent of the charges and would return to Australia to vigorously defend himself and clear his name.
His return today then should not be a surprise.
Before leaving Rome the Cardinal consulted his doctors and on their advice took several days to return home, breaking his journey in a number of places to avoid long-haul flights.
Cardinal Pell will not be making further comment other than to say he is grateful for the numerous messages of support he continues to receive.
A copy of the statement can be found here.
Counseling is available from CatholicCare on 131819.
For information on safeguarding and protection of children protocols and complaint handling please contact the director of The Safeguarding and Ministerial Integrity Office on 9390 5810.
For a summary of the Catholic Archdiocese of Sydney Policy on the care, well-being and protection of children and young people and for the Code of Conduct – Working with children and young people, please visit www.sydneycatholic.org/safeguarding.
DETAILS FOR PEOPLE WANTING TO DONATE TO CARDINAL GEORGE PELL FUND TO ASSIST WITH LEGAL COSTS
A number of people are wanting to know where they can contribute to assist Cardinal George Pell with his defence costs. The Catholic Archdiocese of Sydney has not established nor is it managing a fund to assist Cardinal Pell.
However, there is a fund where people may contribute if they so wish
Funds can be deposited into:
Ferdinand Zito and Associates Law Practice Trust Account
Bendigo Bank
BSB: 633-000
Acct No: 1359-51192
Ref Code: LFGP
If you would like to request acknowledgement of the receipt of funds please email  
[email protected]