Reading Time:
6
minutes
Tuesday, 16 August marks the Centenary of the death of Cardinal Patrick Francis Moran, third Archbishop of Sydney and one of the city's most outstanding leaders.
Intellectually brilliant, the Cardinal was born in Leighlinbridge, County Carlow, Ireland on 16 September 1830. The youngest of five children of businessman, Patrick Moran and his wife, wife Alicia, née Cullen, he was brought up in material comfort. But due to complex relationships among his family and the fact his mother died when he was just 14 months old, the young boy was deprived of emotional security. By his 11th birthday, his father was also dead along with three of his siblings.
At first he was cared for by his Cullen relatives before being placed with his mother's half-brother, Cardinal Paul Cullen, who was Rector of the Irish College in Rome, and who would prove to be the formative and overwhelming influence in the young man's life.
Living under the Cardinal's care in Rome, Moran proved to be an adept, diligent and industrious student and by 15, he was fluent Italian and Latin as well as his native English. Over the next 10 years, he expanded his linguistic skills by becoming fluent in French, German, Spanish and Irish as well as learned in Hebrew and Biblical Greek.
Entering the Roman Seminary under the Jesuits to study Theology, he was awarded his Ph.D by  Archbishop Pecci who would later become Pope Leo XIII, who was one of his examiners.
Ordained a Priest at 23
Cardinal Moran was ordained a priest on 19 March 1853 and would later become Vice Rector of the Irish College, before being appointed secretary to his uncle, Cardinal Paul Cullen.
Appointed Professor of Scripture at Clonliffe College, Ireland he founded the "Irish Ecclesiastical Record" on which he would later model "the Australian Catholic Record" and in 1869, accompanied his uncle to the First Vatican Council, where he met Melbourne Archbishop, the Most Rev James Alipius Goold.
In these years, Cardinal Moran became more and more convinced of his missionary vocation and this underlined his willingness to travel half way across the world to Australia to continue his ministry in the fledgling colony.
Personally chosen and promoted by his former examiner, Pope Leo XIII to head the Archdiocese of Sydney, Cardinal Moran arrived at Botany Bay on 8 September 1884 and was created Cardinal-Priest the following year.
At 191 cm) tall, (6 ft 3 in) at 55, Cardinal Moran was an impressive figure. But he was also seemed reserved, shy and seemingly aloof to the rambunctious Australians. Perhaps due to his early childhood, he kept his emotions under tight control. As one of his priests would later say, Cardinal Moran was "very much respected, a good deal feared, but little loved."
Tall, Imposing, Dedicated and Tireless
Despite his appearance, his health was never robust and was continually afflicted by bronchitis and congestion of one lung. Nevertheless, he refused to let his health stand in the way of his mission and within two years, with typical thoroughness, had not only visited every one of the forty-six parochial districts of his diocese, which at the time extended as far as the Victorian border, but had toured the suffragan dioceses of Maitland, Armidale and New Zealand as well.
Tirelessly through the rest of his life he criss crossed Australia and New Zealand, visiting every diocese in the two nations and dedicating cathedrals at Armidale, Bathurst, Goulburn, Lismore in NSW, as well as at Melbourne, Bendigo, Hobart and Rockhampton, Queensland. He also dedicated cathedrals in Auckland and Dunedin.
Determined to have Australia's Catholic children in schools staffed by religious orders, by 1911 he had virtually achieved this with more than 75% of young Catholics of primary school age in part of the Catholic school system.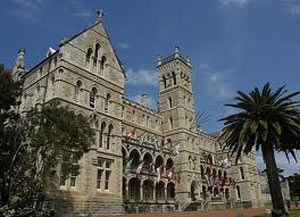 He also trebled the number of teaching brothers and the number of nuns teaching at these schools.
Authorising the expenditure of more than £1,250,000 (many millions in today's money) for the building of churches, schools and institutions, his largest single building project was the completion of St Mary's Cathedral in Sydney.
Construction of St Mary's Cathedral a Personal Project
Under his watch, the northern end of the Cathedral was completed followed by the construction of the central section including what is now known as the Cardinal's Tower.
While there were areas such as the spires still to be completed, by 1900 enough work had been carried out for Cardinal Moran to be able consecrate the Cathedral.
In his final years he began work on the southern part of the original plan for the Cathedral, laying the foundation stone for the work in 1909. Over the next 12 months he spoke at every parish within the Archdiocese to raise money to finance the construction of this section.
He also changed the way the Archdi0cese was managed and brought it fully into the 20th Century.
Before his arrival, Australian and NZ had been heavily dependent on migrant priests but under Cardinal Moran this changed with the establishment of a seminary and official residence for the Archbishop at St Patrick's College Manly. At the opening of the College in 1889, the Cardinal  Moran donated a library of several hundred books, including a priceless collection of medieval manuscripts, and items for a museum.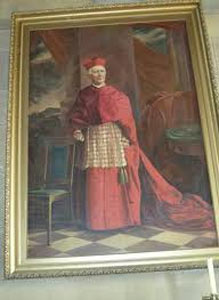 Increasingly believing Catholics political and civil rights were threatened, he believed there was deliberate discrimination by authorities which saw "no office of first, or even second, rate importance is held by a Catholic." For this reason, in 1901 he refused to attend the official ceremony for inauguration of the Commonwealth because precedence was given to the Church of England, and throughout the rest of his life he continued to battle for recognition of Catholics and the rich and vital role they played in the city of Sydney.
As a result, Cardinal Moral made numerous enemies for himself and the Catholic Church by his public attacks on other denominations. This however did not bother him and he continued to act on the assumption that in colonial society leadership was needed, and became one of the best known public figures in Australasia.
His feelings ran so strong, prior to Federation he even agreed to stand for election to the Australasian Federal Convention, convinced the civil rights of Catholics were at issue. While he failed to win the position as part of the NSW delegation, he continued to strongly advocate an independent defence and foreign policy, repeating earlier calls for a separate Australian navy and army.
A Visionary Far Ahead of His Time
A forerunner against racism, as early as the 1880s and 1890s, Cardinal Moran denounced anti-Chinese legislation as unchristian and specifically defended Chinese migrants, even though he was frequently pilloried in cartoons by the right wing literary magazine, The Bulletin, as the "Chow's Patron."
The Cardinal's vision for Australia was always as a base for Christians and Christianisation throughout Asia and the Pacific and he hoped to establish a Chinese College in Sydney. While this did not eventuate, his missionary college and junior seminary, St Columba's College, Springwood, became a reality.
As Archbishop he also gave the French Sacred Heart missionaries a Sydney base and seminary at Kensington for their work in Melanesia and introduced a scheme for annual collections throughout the colonies to support missionaries working among Australian Aborigines, especially in Queensland and Western Australia.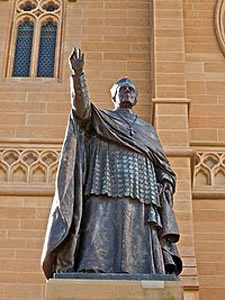 He was equally forward thinking when it came to interfaith and he not only publicly criticised French Catholic anti-Semitism, but paid a sympathy call on the Chief Rabbi of Sydney after pogroms in Russia. Unusual for the Church at this time, the Cardinal was also a strong advocate of female suffrage and authorised use of his name for female suffrage campaigns in Europe.
Yet despite the radicalisation of his political and social attitudes in the final 15 years of his life, including public support for trade unions, he never strayed from the conventional theology of his early years and remained pious, devout and every much a traditional Catholic.
Visiting St Mary of the Cross MacKillop in her death bed in August 1909, Cardinal Moran pronounced "I have just left the death bed of a saint." Then two years later, afflicted by ill health, he retired to Manly for a few days rest.
On 16 August 1911, he was found dead in his room.
Cardinal Moran was buried in the crypt of St Mary's Cathedral, and his massive History of the Catholic Church in Australasia remains one of the great works of the early Church in Australia.
Portraits of Cardinal Moran can be found at St Patrick's College, Manly as well as in the Archbishop's House there as well as at St John's College, University of Sydney.
Fittingly, a bronze statue of this hard working remarkable man, by sculpture Bertram MacKennal, stands outside the south entrance of St Mary's Cathedral.